February 2023
Welcome to the February product updates. As of this month, the brand-new vehicle management and safety inspection modules are available for public preview.
1. Vehicle Management
We are happy to introduce the new Vehicle Management module. Vehicles are the heart of delivery management business. Our new vehicle management module allows your team to manage and track everything with your vehicles, assign vehicles to your drivers easily, set reminders for service and registration renew, manage issues and defects, track odometer logs, fuel usage, on-road expenses, complete pre-delivery inspections and more.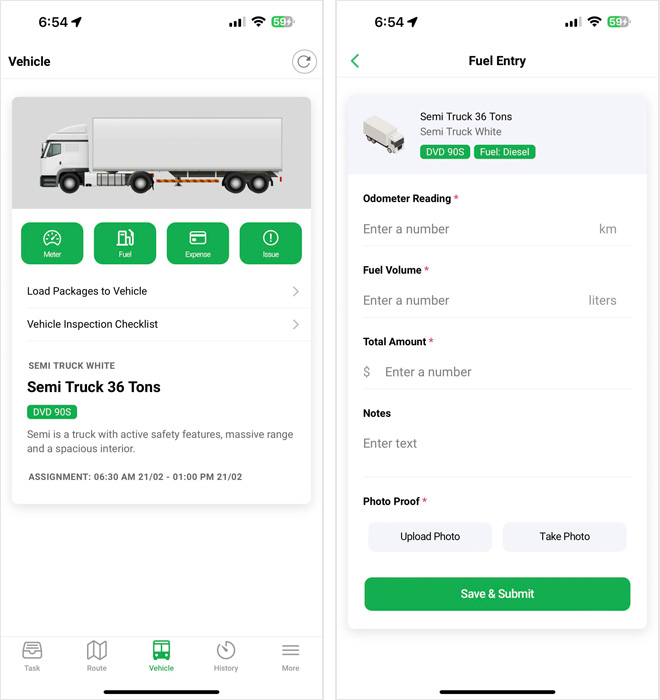 2. Inspection & Checklist
The new Inspection & Checklist module is available for public preview. Safety sits at the core of every business. Inspection forms can be used for vehicle inspections, but they can also be used to collect information for form-related processes, such as documenting accident damage or general vehicle check-ins. You can add new inspection form from our public library in seconds or build your own form and checklist from scratch.
3. Delivery Docket Enhancements
Delivery docket is a PDF formatted document that includes the detailed information about your task, such as recipient details, task description, service pricing, product list. With the recent updates, you can now add sign-off sheet, QR code for tracking, barcode for scanning, custom forms to the delivery docket.
4. Mandatory Delivery Notes
Now you can force drivers to include notes as proof of delivery (POD). This is very helpful if you want to collect additional information or feedbacks from your drivers for each task.

January 2023
Welcome to the January 2023 release. There are many updates in this month that we hope you'll like, some of the key highlights include:
1. New Drivers Run Sheet
Now, dispatchers can print drivers run sheets for optimized routes on the [Map] page – [Drivers] tab. A drivers run sheet is a PDF form that contains a list of the tasks/consignments going with a single driver. It sorts all assigned tasks by route sequence number in an ascending order.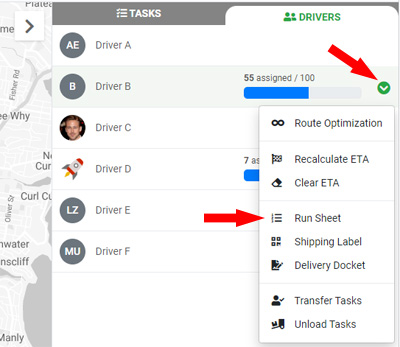 Administrators can activate the Run Sheet module on the Extensions page and configure the system to show optional columns on the run sheet.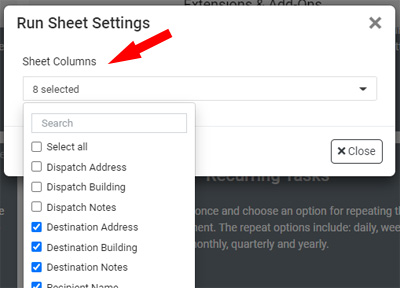 2. Show Vehicle Details on Live Tracking Page
We added a new option to show the driver's vehicle description and plate number on the tracking page. You can manage driver's vehicle information on the User Profile page.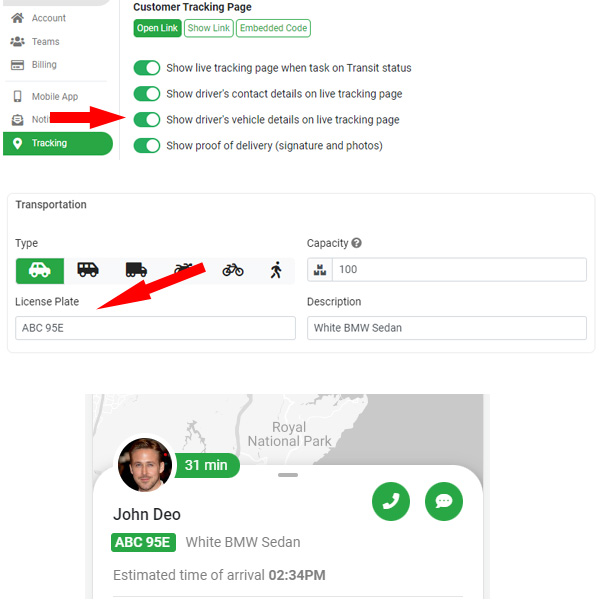 3. Assign Merchants to Team
We are happy to announce that merchants can be assigned to a team now. Teams make it easy to group drivers, merchants and tasks by geographic area or operational unit. Each team can manage their own merchant list. When a merchant account is assigned to a team, all the tasks created by this merchant will be assigned to the linked team automatically. Additionally, with this new feature, you can link a merchant to a group of drivers on the auto-assignment module now.

4. Auto-Assign Drivers by Team
We added the ability to auto-assign tasks to a driver by team. When this option is enabled, it will automatically check which team the task is assigned to, and drivers who are linked to this team will receive the notification of new tasks.
For example, a new task is assigned to the Red team but has not been assigned to a driver yet. When auto-assigning this task, only drivers in the Red team will receive the push notification.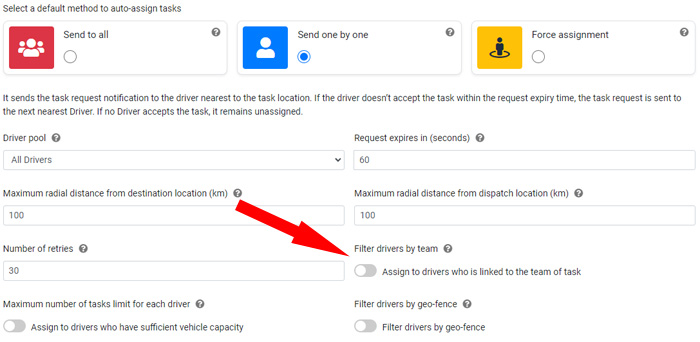 December 2022 
2022 is wrapped up with a final release of Return Managemen module. We can't wait to share 2023 with you. The new Vehicle Management and Saftey Inspection Form modules will be available early 2023. We're forever inspired by your growth and thankful for your loyalty to our solutions!
1. New Return Management Module
We are happy to introduce the new Return Management module. It enhances the speed and convenience of your return service will help you improve customer service and make your business more profitable. You may return an unsuccessful delivery back to the sender in the courier business or return shoes that didn't fit from your customers in the e-commerce industry.

2. Task Assignment Monitor
Auto-assign feature helps to assign drivers for a task automatically. Now, dispatchers can monitor the automated task assignment progress in the real time. It shows details of push notification that are sent to all available drivers and response from each driver.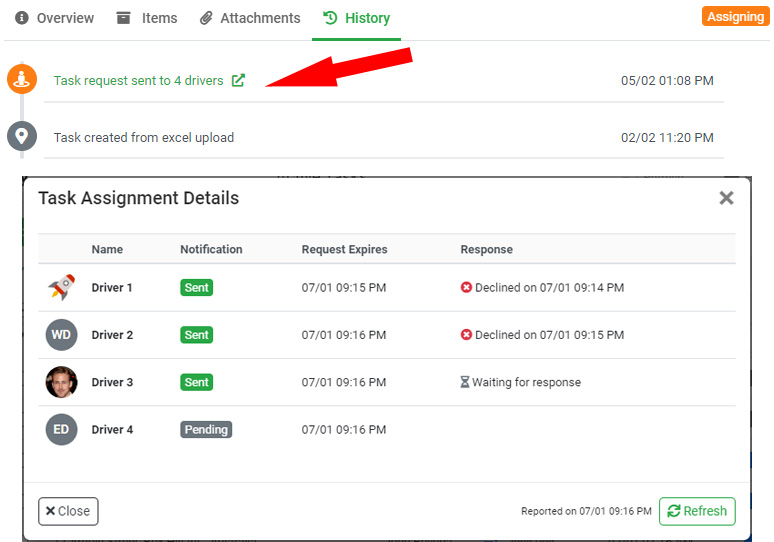 November 2022
Welcome to the November 2022 release. There are many updates in this month that we hope you'll like, some of the key highlights include:
1. Capacity Management
We are happy to introduce the Capacity Management addon. It allows you to manage task assignments according to driver-vehicle capacity. Every task will have a capacity number (quantity, weight, etc.) which can be defined while creating the task. It helps to solve the problem with the assignment of tasks to drivers with-in their capacity limits. For example, if you have two drivers A and B with capacity of 50 and 100 respectively. If you create a task with capacity of 60 then the auto-assign will check task capacity against all available drivers. Task will be notified to driver B as he has sufficient capacity to complete the task.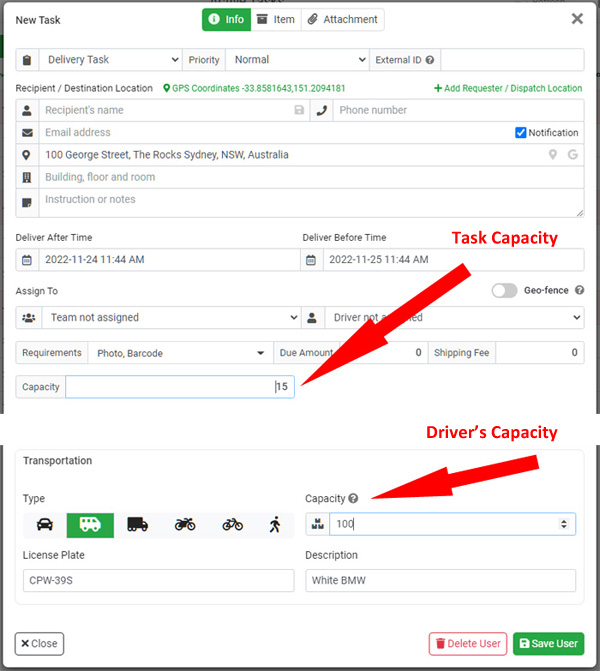 2. Load Vehicle – Set Package Place
We find ways to make the lives of drivers easier. This new feature allows drivers to set package place in the vehicle: whether your packages are in the front of your vehicle or anywhere. It will help driver to fetch each delivery in seconds. This feature can be turned on the Settings – Mobile App page. Your drivers will have the options to set package place when loading packages to their vehicle.
3. Force Driver Online/Offline
Now dispatchers and admins can remotely request a driver to go online or force a driver to go offline. This can be controlled easily on the Users page.

4. Automated Task Assignment
We have now added 2 new parameter settings to the automated task assignment. You can set a maximum radial distance from dispatch location to auto-assign new tasks to the drivers near the pickup/sender's location. Additionally, now you can set a maximum number of tasks limit for each driver based on their vehicle capacity. New tasks will be auto assigned to drivers satisfying sufficient capacity criteria.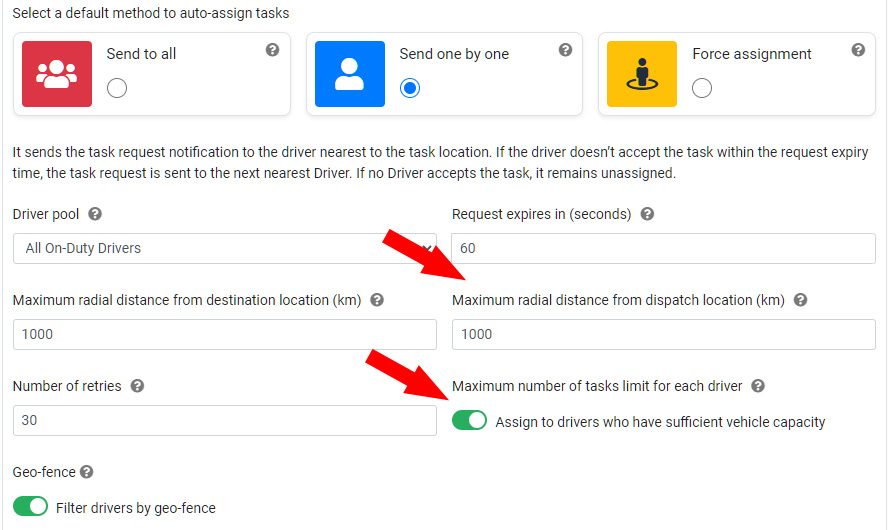 5. Background Location & Distance Tracking
A few weeks ago, we started working on the new framework of GPS location tracking. Up until now, we have fixed some live tracking issues due to the disabled location permission on driver's phone. To allow WooDelivery to accurately track a driver's location, now we ask that drivers enable "Always Allow" location permission every time when they go online. We have also re-developed the travelled distance tracker to improve the data accuracy. In addition, we have been developing the route replay feature to show your driver's location history on a map view.
October 2022
Each month WooDelivery team continue to roll out updates. We have been constantly improving our software along the way based on our roadmap and user feedbacks. In the past few weeks, we have added quite a few new features and enhancements. Some of these recent updates on admin dashboard include:
1. Bulk Task Importer
The new task import tool is a powerful way to get a large amount of delivery information into your dashboard with a single batched action. You can upload an excel, csv or tab-delimited text file with any set of columns as long as it has column headers on the first row. The system asks you to match your spreadsheet columns to the right data fields (it will auto-map data fields for you in most of the time). You'll be able to clean up or remove any corrupted data before submitting your data.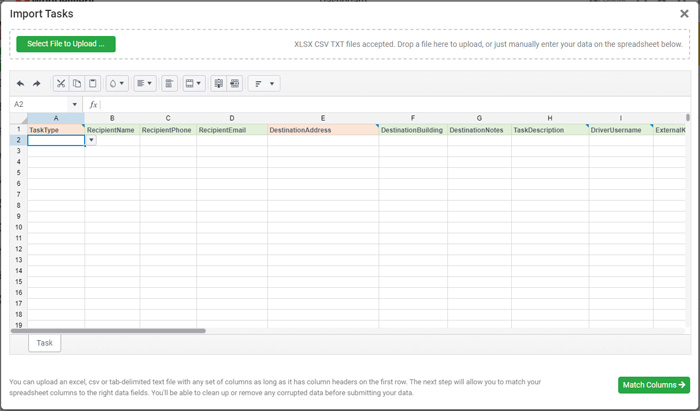 2. API Key Management
API key is used for authenticating a calling program to access your WooDelivery account on integration. We have added the capability to restrict API key access permissions. It limits which API endpoints the key can access. Additionally, you can link API key to a merchant account if it is used by a specific merchant/customer to access their data only.

3. Shipping Label Enhancements
WooDelivery allows you to customize your shipping labels to suit your needs. We have added various new options that you can switch on for your shipping label: Zone and routing sequence display; Task description display; Support new linear barcodes; Customizable paper/label size, and more.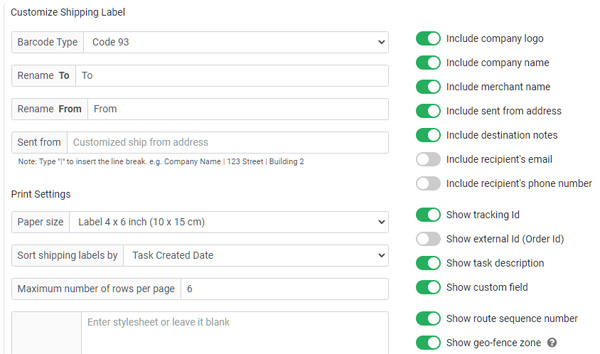 4. Map Page Enhancements
With the new popup menu on the Driver tab, it is easy for users to print shipping label and delivery docket by driver, or transfer tasks to a new driver. Users can also drag & drop on the routing sequence number to sort driver's run manually.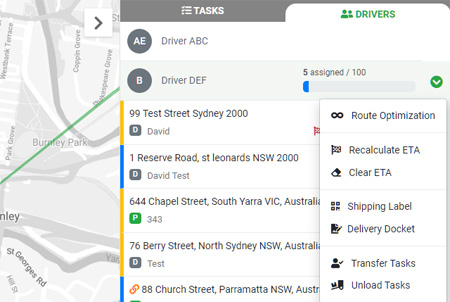 5. Automated Task Assignment
WooDelivery is the easiest way to automate your deliveries. The new Shortest Route option will auto-assign the task to the driver who, upon assignment of the new task, will have the shortest total distance to travel. It calculates the distance from the available driver's last-known location and the distance from the driver's active tasks in a route. This method will assign the linked tasks to the same driver.