July 2023
In this month our team are working diligently to finalize the new Team Chat module, allowing dispatchers, drivers, and merchants to engage in real-time in-app chat, instant communication, and broadcasting message through both mobile apps and the web dashboard. The upcoming feature will be made available for public use in the near future. Furthermore, we have been diligently enhancing our system to provide you with an even better experience, some of the key highlights include:
1. Improved Search Functionality for Tasks
Now you can search for tasks within specific time periods and view the results in various formats, such as Task List, Items/Packages, Attachments, and Custom Task Form. These enhancements offer immense utility across a wide range of use cases. For instance, you can now effortlessly find packages assigned to a driver across multiple tasks. Additionally, searching for specific custom fields and task forms within completed tasks is now a breeze. And to top it off, you have the option to conveniently export the search results to an Excel file for further analysis.

2. Expanded Custom Fields for Tasks and Products
For tasks, we've increased the number of fixed custom fields from 3 to 5, allowing you to input additional essential information. If your business requires even more fields, our task form feature enables you to create unlimited custom fields to precisely capture the information you need. Similarly, we've added 5 customizable fields to the product/package level, enabling you to define pertinent details such as Unit of Measure (UOM) and expiry dates. This functionality ensures that your product information is comprehensive and relevant to your unique business requirements.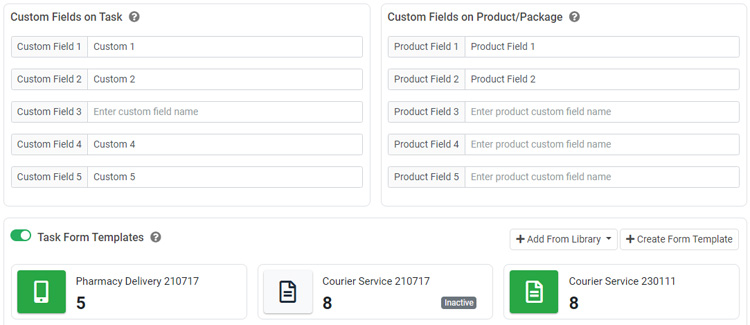 3. Task Assignment Mode for Dispatchers
Administrator can now choose their preferred task assignment mode for dispatchers, providing more flexibility and customization to suit different operational needs. This option can be set on the Settings – Mobile app page. In the notification-based assignment mode, the driver receives alerts about new tasks and can choose to accept or decline them. However, in the force-assignment mode, tasks are assigned to a driver who is obligated to complete the job.

4. Streamlined Merchant Notifications with Automation
Now you can effortlessly set up automated email or SMS notifications for merchants at any stage of the delivery process. With this enhancement, you can keep your merchants informed and engaged throughout the entire order journey. For instance, you can now configure the notification system to send a real-time text message to the merchant as soon as their order delivery is completed by one of your drivers.
5. Efficiently Import Tasks with Product Information
You can now import tasks along with product information directly from a spreadsheet. The new feature includes additional mapping columns that enable users to seamlessly create multiple tasks, complete with their respective product details, all in one go. Gone are the days of manual product data entry for each task – our bulk import functionality streamlines the process and saves you valuable time.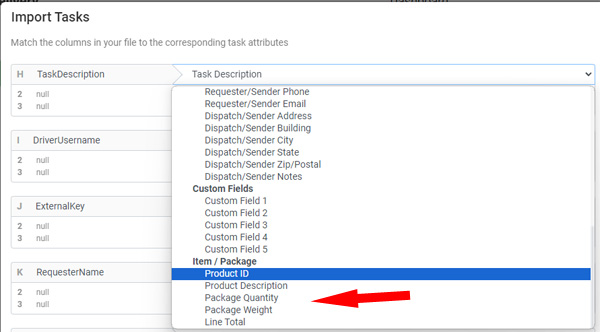 June 2023
Welcome to the June 2023 release notes, where we strive to ensure that our software remains cutting-edge and user-friendly. This month, we bring you a variety of updates, including enhancements to the Task page, Analytics & Reporting, Account Setup Wizard, Google Review collection, and much more.
1. Analytics & Reporting Enhancements
We have introduced new filters that allow you to create custom reports based on specific combinations. Now, you can easily generate reports based on task types, team, merchant, and individual driver data. Gain valuable insights into team productivity, monitor merchant performance, and assess individual driver efficiency, all with just a few clicks. These updates bring added flexibility and insights to your data analysis.

2. Automated Google Review Collection
The new Feedback Collection module offers seamless integration with Google Review, enabling you to capture more positive reviews from your satisfied customers. Once enabled, customers will be asked to provide a rating and review on the private feedback form. If a customer leaves a 5-star review, they will then be prompted to leave a Google Review. They will be directed to your business's Google review link to complete the process.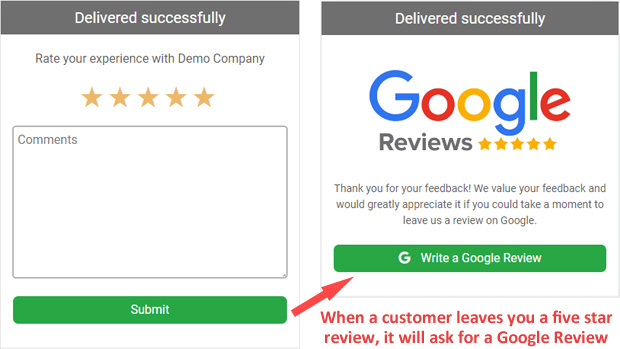 3. Account Setup Wizard
There are over 50 add-ons and handreds of customization options on WooDelivery. To make the onboarding experience seamless and hassle-free, we have introduced a new Account Setup Wizard. This intuitive wizard has been meticulously designed to guide new users through a step-by-step process, ensuring a smooth setup of their new accounts. Say goodbye to confusion and hello to simplicity as you embark on your journey with WooDelivery.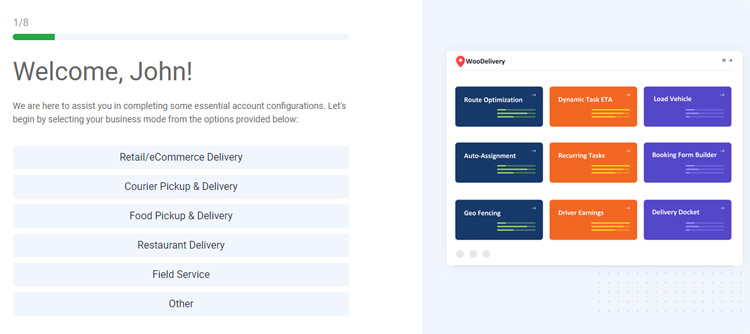 4. Cash on Delivery Report
Introducing the enhanced Cash on Delivery report, designed to streamline your tracking process. Now, you can effortlessly monitor the exact COD amount that needs to be collected and compare it with the COD amount actually collected by your drivers. This feature simplifies the task of determining the precise amount you need to collect from your drivers.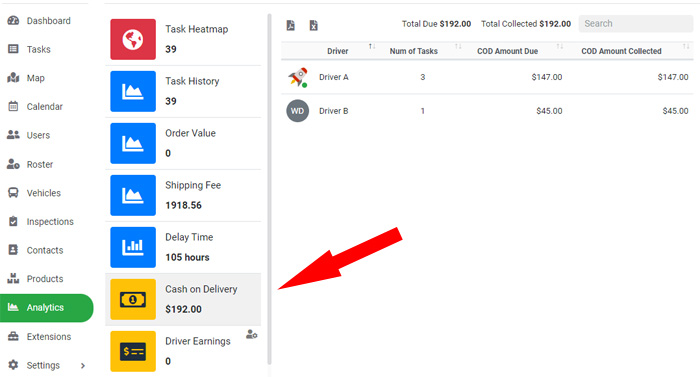 May 2023
We are thrilled to add more powerful features to our software suite to enhance your experience and optimize your operations. In this month's release, we are introducing four exciting additions to our platform: App Customization with List View & Card View, Route Geometry & Location History, Shipping Label Enhancements, and the Merchant Integration Hub.
1. App Customization: List View & Card View
We are excited to introduce a new feature that allows users to personalize the task list layout on our three mobile apps. With this update, you have the flexibility to choose between two distinct views: List View and Card View, catering to different business needs.
List View offers a condensed list format, presenting all tasks in a streamlined manner. This view is particularly suitable for most scheduled delivery businesses, providing a clear and efficient overview of tasks.
The new Card View offers a more comprehensive display, showcasing additional information such as descriptions, status, and external IDs for each task. This view conveniently groups multiple linked pickup and delivery tasks into a single card, optimizing the experience for pickup and delivery businesses and field service businesses. It also enforces a sequential workflow for your drivers. Drivers are required to complete the pickup task associated with a card before they can proceed to the linked delivery tasks.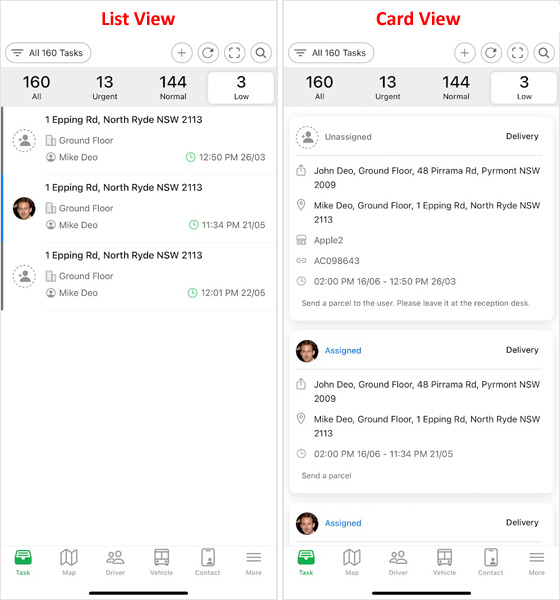 In addition to user customization, we have also empowered administrators with greater control over the task list layout for their drivers. Admins now have the ability to enforce a specific layout for all drivers under their management. This ensures consistency and alignment with the business requirements.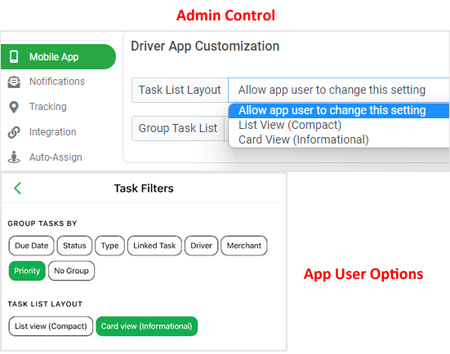 2. Route Geometry & Location History
We are excited to announce an enhancement to our route optimization feature, providing users with a more comprehensive view of their planned routes. Now, both our web portal and mobile apps will display detailed route geometry and direction lines, allowing you to visualize the planned route effectively.
Moreover, we have introduced a new location history feature that enables managers to access valuable information about a driver's recent location history and route log directly on the map. When viewing a driver's profile, you will notice the planned route displayed in blue, providing a clear visualization of the intended path. Additionally, the actual route taken by the driver will be depicted in red, allowing you to compare it with the planned route. For further insights, you can click on any location point along the route to view the corresponding vehicle speed and location log time.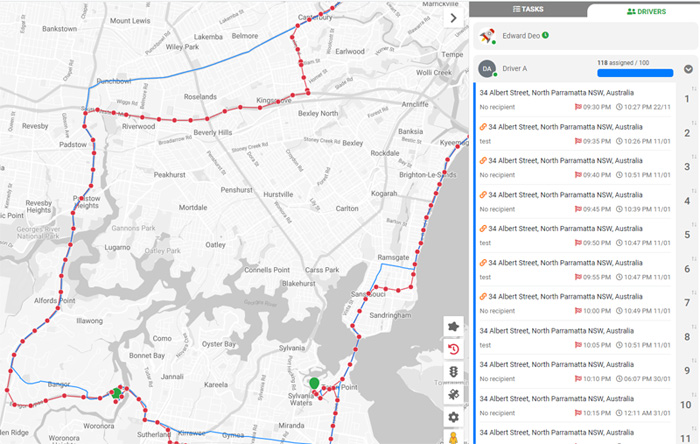 3. Shipping Label Enhancements
We understand that many of our customers have a need for their drivers to print shipping labels or order receipts while on the go. To address this requirement in a cost-effective manner, we have introduced support for Bluetooth receipt or ticket printers.
Our latest optimization focuses on the compatibility of our shipping labels with rolling paper commonly used in receipt or ticket printers. We have also added a new feature that enables the inclusion of a product list on the shipping label.
4. Merchant Integration Hub
Our multi-merchant platform enables you to effortlessly onboard both your customers and merchants. We are excited to announce that we have streamlined and simplified the process of integrating merchants into our system, making it even more convenient for you.
To initiate the merchant integration, you can now create an API key directly from the admin dashboard's Settings – Integration page. Once created, you can easily assign this API key to the respective merchant. Upon receiving the assigned API key, the merchant can access it directly from their merchant portal. This eliminates any confusion or hassle and provides them with immediate access to the necessary integration resources.
We have provided a comprehensive list of integration setup guides on merchant portal. These guides offer step-by-step instructions on utilizing the API key to establish seamless integration and synchronize orders seamlessly from their website or system to your account.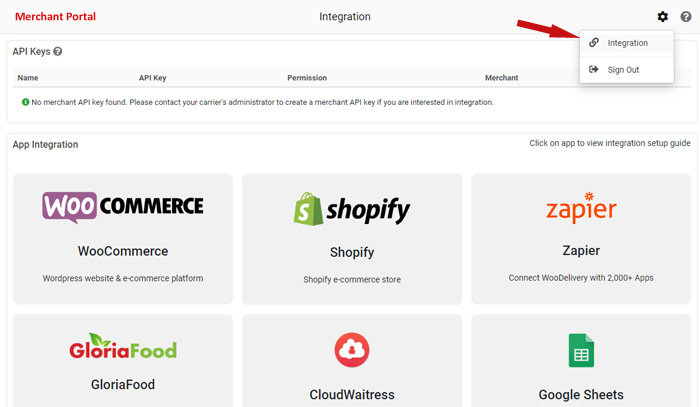 April 2023
Welcome to the April 2023 release notes. There are many updates in this version that we hope you'll like, some of the key highlights include:
1. New Route Optimization Engine
We have deployed a new Route Optimization Engine this month. It is designed to optimize route planning for your delivery needs, making your delivery services more efficient and cost-effective. Our new Route Optimization Engine is 3 times faster than the previous version, making it much quicker to generate optimized routes. It allows for improved multi-vehicle optimization, meaning you can now create optimal routes for up to 2,000 addresses and auto-allocate tasks to up to 200 vehicles in one go. We have also added feature to auto-allocate tasks to your team members according to their working hours, making it easier to manage your workforce and increase efficiency. Additionally, we will be introducing new features in the coming months to further improve the route optimization services.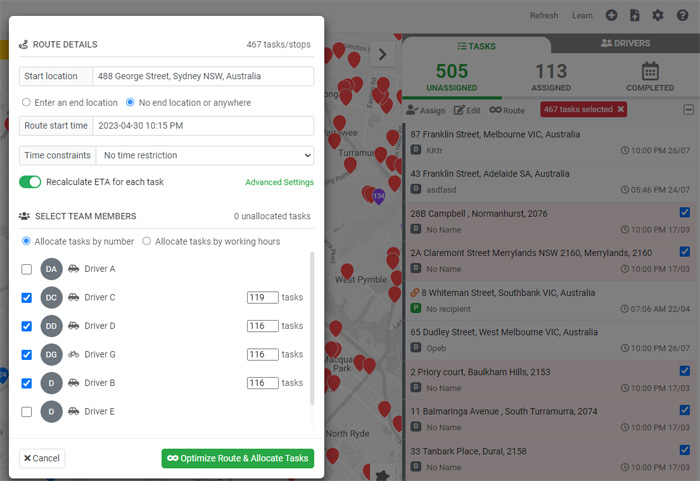 2. Merchant Signup and Approval
The new merchant signup form and approval system allows your customers to sign up and become merchants on your account in a streamlined and user-friendly manner. It is designed to enhance the merchant onboarding experience. You can put the merchant signup form on your website or share it with your potential customers. Once a customer submits a merchant signup form, you can simply approve or decline their registration on the admin dashboard. This helps to simplify the process of adding new merchants, which can be especially useful if you are running a large marketplace business.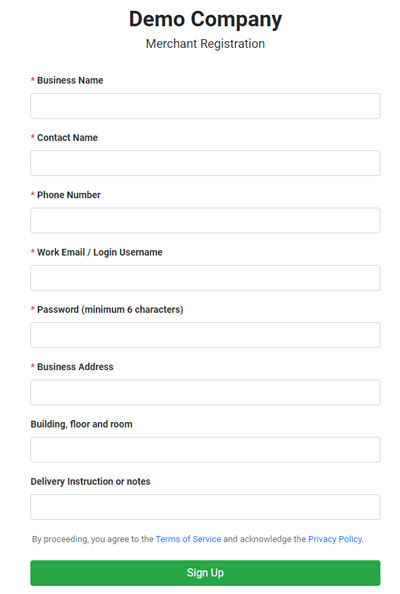 3. Noticeboard on Tracking Page
This new feature allows you to add a noticeboard message to the customer tracking page. It can show additional information to your customers, such as your company phone number, opening hours, or any other custom message you would like to share. This can help improve the customer experience and increase customer satisfaction.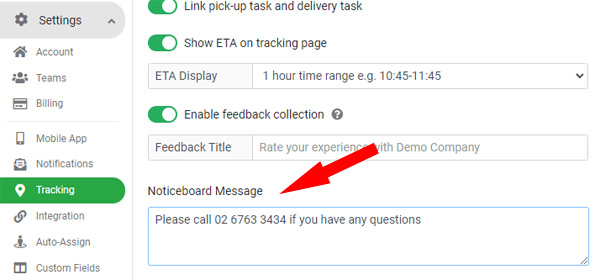 4. Auto-return Failed Tasks
With this feature, you will no longer need to manually return failed tasks after an unsuccessful delivery attempt. Once a driver marks a task as failed on their app, the system will automatically change the task status to returned. As a result, the task will be removed from the active task list, reducing the clutter and enabling your team to focus on their remaining tasks.

March 2023
Welcome to the release notes for our latest product update! There are many changes and enhancements in March, and our platform is always getting better and easier to use. We're excited to share with you some new features released this month:
1. Bulk Scanning Update
Introducing the new bulk scanning and update module, a powerful tool used by dispatch and warehouse personnel to manage their parcel inventory efficiently. This module enables users to scan barcodes or QR codes on multiple parcels at once and perform bulk actions, such as updating task status, assigning tasks to drivers, or updating task details. By reducing manual processes and increasing automation, this module can help companies save time, reduce errors, and improve overall productivity.
2. Geo-fence Map Overlays
Now you can add multiple geo-fence overlays to your map. With this new functionality, you can easily customize your map by dividing it into different regions and zones based on your business needs. This feature enables you to group your delivery and pickup tasks by location/region and assign them to the most suitable driver. You can click on a geo-fence zone to select all tasks that lies in it. Then create an optimal route for all selected tasks or simply assign them to a driver.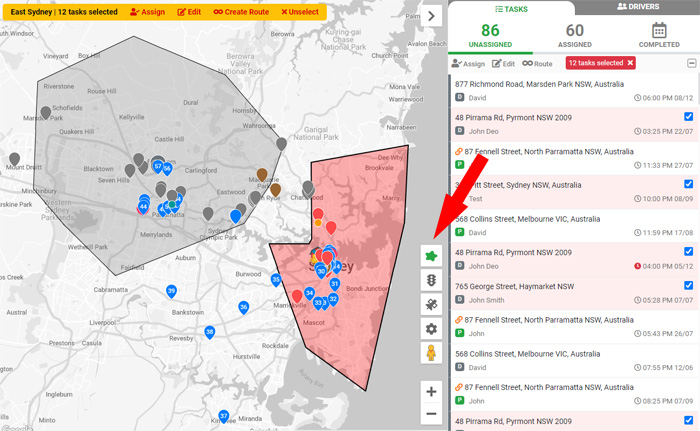 February 2023
Welcome to the February product updates. As of this month, the brand-new vehicle management and safety inspection modules are available for public preview.
1. Vehicle Management
We are happy to introduce the new Vehicle Management module. Vehicles are the heart of delivery management business. Our new vehicle management module allows your team to manage and track everything with your vehicles, assign vehicles to your drivers easily, set reminders for service and registration renew, manage issues and defects, track odometer logs, fuel usage, on-road expenses, complete pre-delivery inspections and more.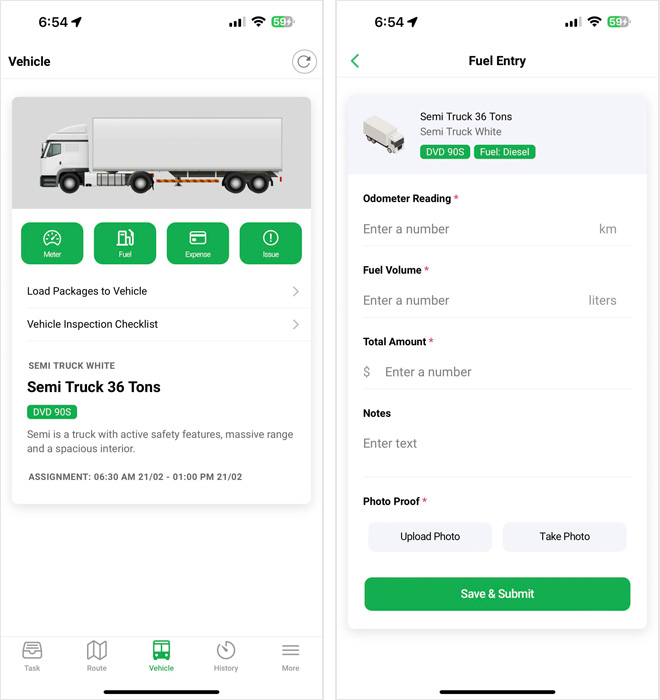 2. Inspection & Checklist
The new Inspection & Checklist module is available for public preview. Safety sits at the core of every business. Inspection forms can be used for vehicle inspections, but they can also be used to collect information for form-related processes, such as documenting accident damage or general vehicle check-ins. You can add new inspection form from our public library in seconds or build your own form and checklist from scratch.
3. Delivery Docket Enhancements
Delivery docket is a PDF formatted document that includes the detailed information about your task, such as recipient details, task description, service pricing, product list. With the recent updates, you can now add sign-off sheet, QR code for tracking, barcode for scanning, custom forms to the delivery docket.
4. Mandatory Delivery Notes
Now you can force drivers to include notes as proof of delivery (POD). This is very helpful if you want to collect additional information or feedbacks from your drivers for each task.

January 2023
Welcome to the January 2023 release. There are many updates in this month that we hope you'll like, some of the key highlights include:
1. New Drivers Run Sheet
Now, dispatchers can print drivers run sheets for optimized routes on the [Map] page – [Drivers] tab. A drivers run sheet is a PDF form that contains a list of the tasks/consignments going with a single driver. It sorts all assigned tasks by route sequence number in an ascending order.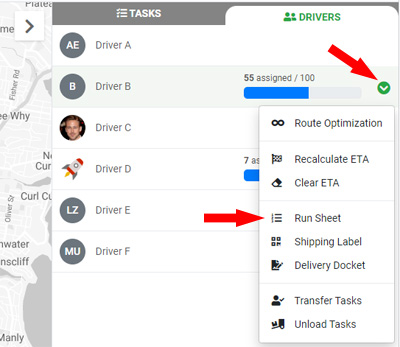 Administrators can activate the Run Sheet module on the Extensions page and configure the system to show optional columns on the run sheet.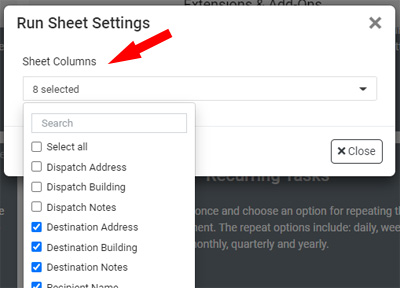 2. Show Vehicle Details on Live Tracking Page
We added a new option to show the driver's vehicle description and plate number on the tracking page. You can manage driver's vehicle information on the User Profile page.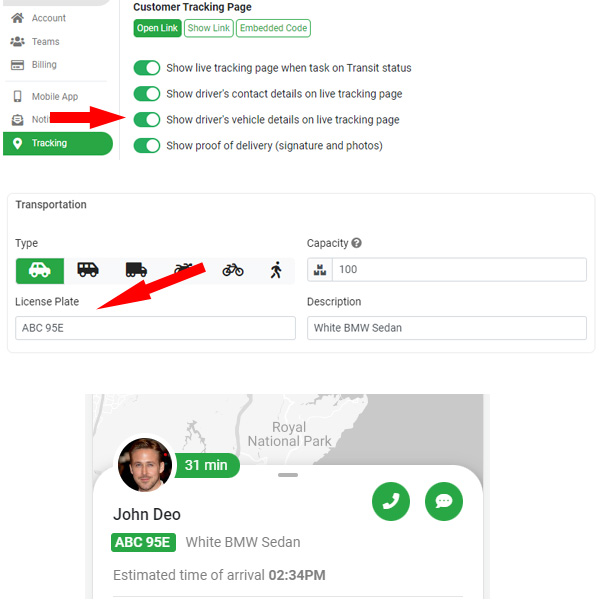 3. Assign Merchants to Team
We are happy to announce that merchants can be assigned to a team now. Teams make it easy to group drivers, merchants and tasks by geographic area or operational unit. Each team can manage their own merchant list. When a merchant account is assigned to a team, all the tasks created by this merchant will be assigned to the linked team automatically. Additionally, with this new feature, you can link a merchant to a group of drivers on the auto-assignment module now.

4. Auto-Assign Drivers by Team
We added the ability to auto-assign tasks to a driver by team. When this option is enabled, it will automatically check which team the task is assigned to, and drivers who are linked to this team will receive the notification of new tasks.
For example, a new task is assigned to the Red team but has not been assigned to a driver yet. When auto-assigning this task, only drivers in the Red team will receive the push notification.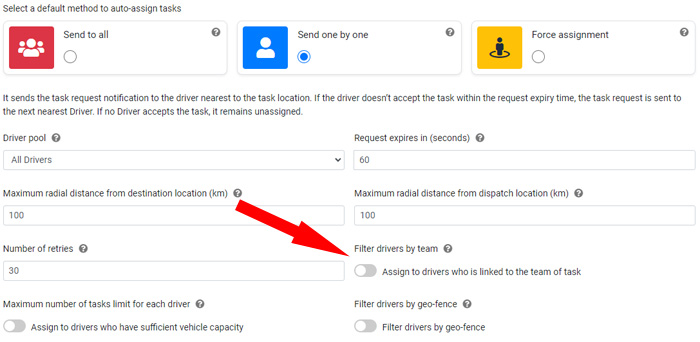 December 2022 
2022 is wrapped up with a final release of Return Managemen module. We can't wait to share 2023 with you. The new Vehicle Management and Saftey Inspection Form modules will be available early 2023. We're forever inspired by your growth and thankful for your loyalty to our solutions!
1. New Return Management Module
We are happy to introduce the new Return Management module. It enhances the speed and convenience of your return service will help you improve customer service and make your business more profitable. You may return an unsuccessful delivery back to the sender in the courier business or return shoes that didn't fit from your customers in the e-commerce industry.

2. Task Assignment Monitor
Auto-assign feature helps to assign drivers for a task automatically. Now, dispatchers can monitor the automated task assignment progress in the real time. It shows details of push notification that are sent to all available drivers and response from each driver.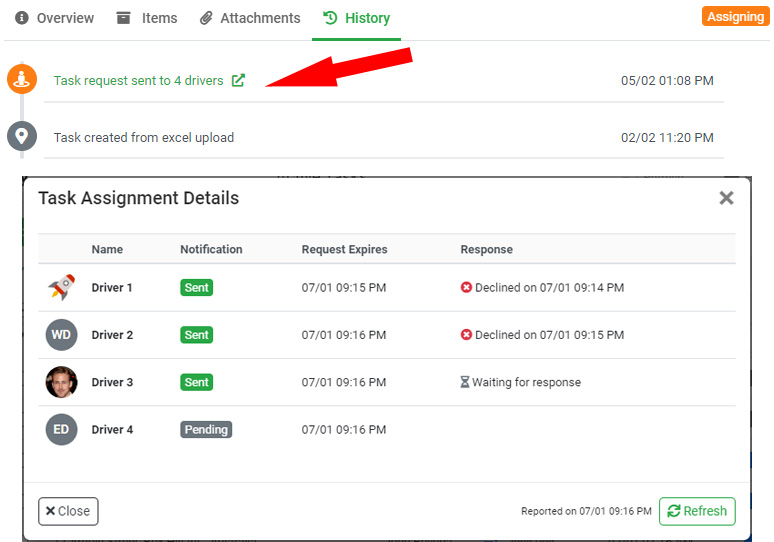 November 2022
Welcome to the November 2022 release. There are many updates in this month that we hope you'll like, some of the key highlights include:
1. Capacity Management
We are happy to introduce the Capacity Management addon. It allows you to manage task assignments according to driver-vehicle capacity. Every task will have a capacity number (quantity, weight, etc.) which can be defined while creating the task. It helps to solve the problem with the assignment of tasks to drivers with-in their capacity limits. For example, if you have two drivers A and B with capacity of 50 and 100 respectively. If you create a task with capacity of 60 then the auto-assign will check task capacity against all available drivers. Task will be notified to driver B as he has sufficient capacity to complete the task.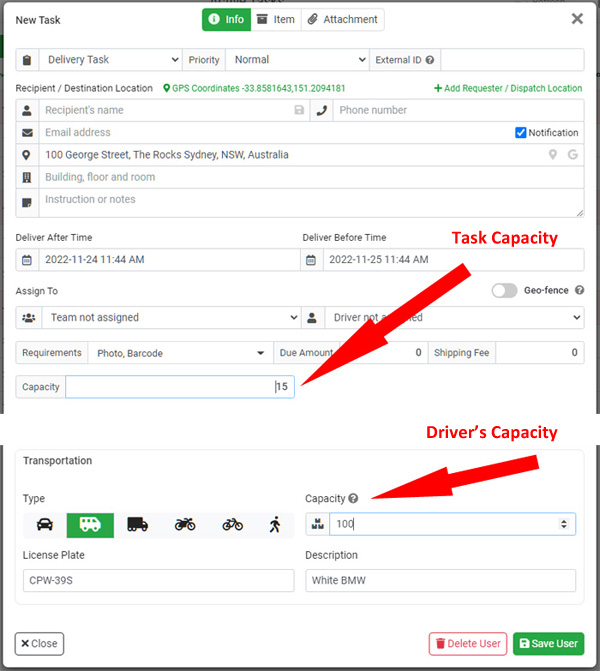 2. Load Vehicle – Set Package Place
We find ways to make the lives of drivers easier. This new feature allows drivers to set package place in the vehicle: whether your packages are in the front of your vehicle or anywhere. It will help driver to fetch each delivery in seconds. This feature can be turned on the Settings – Mobile App page. Your drivers will have the options to set package place when loading packages to their vehicle.
3. Force Driver Online/Offline
Now dispatchers and admins can remotely request a driver to go online or force a driver to go offline. This can be controlled easily on the Users page.

4. Automated Task Assignment
We have now added 2 new parameter settings to the automated task assignment. You can set a maximum radial distance from dispatch location to auto-assign new tasks to the drivers near the pickup/sender's location. Additionally, now you can set a maximum number of tasks limit for each driver based on their vehicle capacity. New tasks will be auto assigned to drivers satisfying sufficient capacity criteria.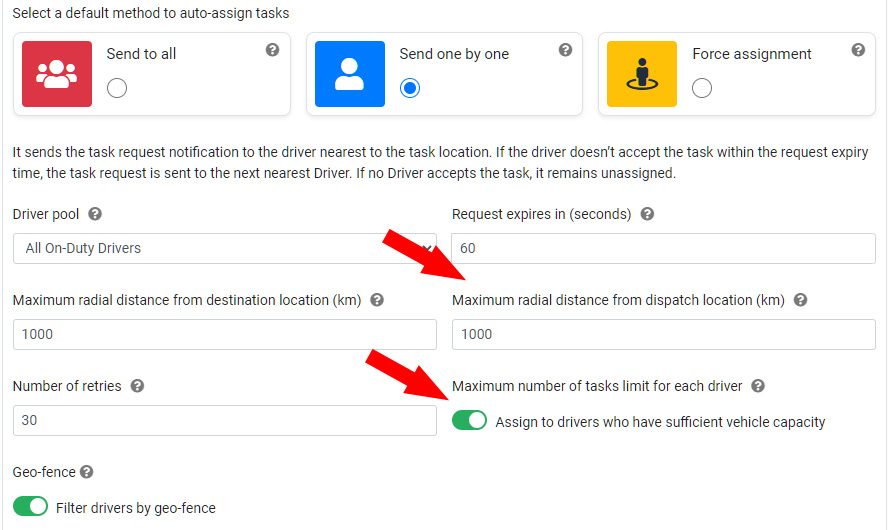 5. Background Location & Distance Tracking
A few weeks ago, we started working on the new framework of GPS location tracking. Up until now, we have fixed some live tracking issues due to the disabled location permission on driver's phone. To allow WooDelivery to accurately track a driver's location, now we ask that drivers enable "Always Allow" location permission every time when they go online. We have also re-developed the travelled distance tracker to improve the data accuracy. In addition, we have been developing the route replay feature to show your driver's location history on a map view.
October 2022
Each month WooDelivery team continue to roll out updates. We have been constantly improving our software along the way based on our roadmap and user feedbacks. In the past few weeks, we have added quite a few new features and enhancements. Some of these recent updates on admin dashboard include:
1. Bulk Task Importer
The new task import tool is a powerful way to get a large amount of delivery information into your dashboard with a single batched action. You can upload an excel, csv or tab-delimited text file with any set of columns as long as it has column headers on the first row. The system asks you to match your spreadsheet columns to the right data fields (it will auto-map data fields for you in most of the time). You'll be able to clean up or remove any corrupted data before submitting your data.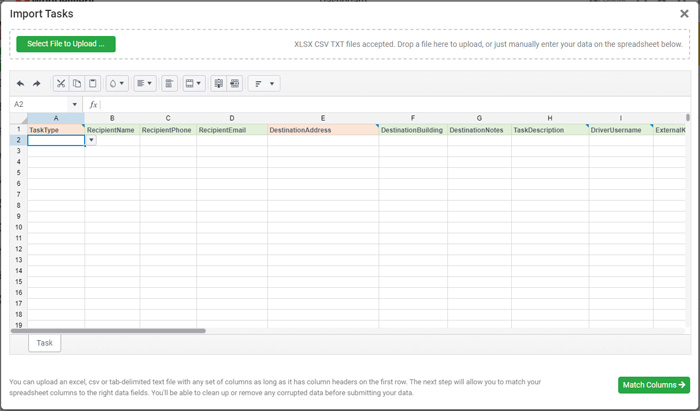 2. API Key Management
API key is used for authenticating a calling program to access your WooDelivery account on integration. We have added the capability to restrict API key access permissions. It limits which API endpoints the key can access. Additionally, you can link API key to a merchant account if it is used by a specific merchant/customer to access their data only.

3. Shipping Label Enhancements
WooDelivery allows you to customize your shipping labels to suit your needs. We have added various new options that you can switch on for your shipping label: Zone and routing sequence display; Task description display; Support new linear barcodes; Customizable paper/label size, and more.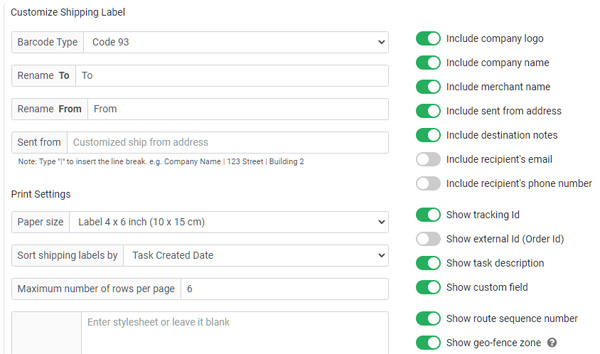 4. Map Page Enhancements
With the new popup menu on the Driver tab, it is easy for users to print shipping label and delivery docket by driver, or transfer tasks to a new driver. Users can also drag & drop on the routing sequence number to sort driver's run manually.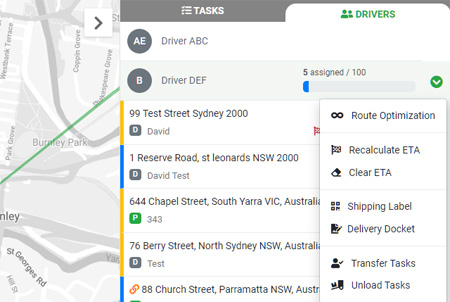 5. Automated Task Assignment
WooDelivery is the easiest way to automate your deliveries. The new Shortest Route option will auto-assign the task to the driver who, upon assignment of the new task, will have the shortest total distance to travel. It calculates the distance from the available driver's last-known location and the distance from the driver's active tasks in a route. This method will assign the linked tasks to the same driver.